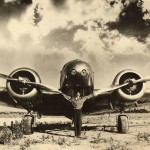 It seems like a piece of the legendary lost pilot's plane has possibly been identified, leading some researchers that much closer to finally unraveling the mystery of her last few days.
One of history's biggest mysteries may be one step closer to being solved. Researchers at The International Group for Historic Aircraft Recovery (TIGHAR) suggest that an aluminum fragment from aviatrix Amelia Earhart's missing aircraft may have been identified.
The 19-inch by 23-inch-long piece of metal — which was found on Nikumaroro, an atoll in the southwestern Pacific republic of Kiribati, in a 1991 recovery operation — is believed to have been installed as a patch on Earhart's Lockheed Electra plane during a stopover in Miami.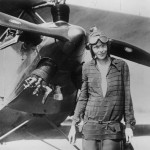 "The Miami Patch was an expedient field repair," Ric Gillespie, executive director of TIGHAR (The International Group for Historic Aircraft Recovery), told Discovery News. "Its complex fingerprint of dimensions, proportions, materials and rivet patterns was as unique to Earhart's Electra as a fingerprint is to an individual."
The legendary "Lady Lindy," as she was nicknamed after her male counterpart Charles Lindbergh, famously became the first woman to fly across the Atlantic Ocean in 1928, as well as the first person to fly over both the Atlantic and Pacific Oceans. However, her legend took a haunting turn on July 2, 1937, when her plane vanished over the Pacific Ocean while attempting to fly around the world at the equator.
Over the years various clues have emerged in an attempt to piece together Earhart's last days including the discovery of possible artifacts such as clothing, tools and even anti-freckle cream. However, this is the first time evidence recovered from Nikumaroro has been directly linked to Earhart's plane. This discovery could support the theory that Earhart and her co-pilot Fred Noonan did not crash in the Pacific Ocean, but landed on the atoll and spent the rest of their days as castaways.
TIGHAR is currently raising funds to travel to Nikumaroro to continue their investigations in hopes of finally solving the 77-year-old mystery.
You Might Also Like: Amelia Earhart Day: A Modern-Day Aviatrix (Also Named Amelia Earhart) Soars to New Heights
Amelia Earhart Found? The Search Continues
Amelia Earhart: American Aviatrix
 Amelia Mary Earhart (/ˈɛərhɑrt/; July 24, 1897 – disappeared July 2, 1937) was an American aviation pioneer and author. Earhart was the first female aviator to fly solo across the Atlantic Ocean.She received the U.S. Distinguished Flying Cross for this record. She set many other records, wrote best-selling books about her flying experiences and was instrumental in the formation of The Ninety-Nines, an organization for female pilots. Earhart joined the faculty of the Purdue University aviation department in 1935 as a visiting faculty member to counsel women on careers and help inspire others with her love for aviation. She was also a member of the National Woman's Party, and an early supporter of the Equal Rights Amendment.
During an attempt to make a circumnavigational flight of the globe in 1937 in a Purdue-funded Lockheed Model 10 Electra, Earhart disappeared over the central Pacific Ocean near Howland Island. Fascination with her life, career and disappearance continues to this day.